Blazing Fast Maps & Geocoding
Enterprise-grade Location APIs for everyone.
Why LocationIQ?
Why us?
Affordable
Pricing that is fair. No complicated agreements, no long-term commitments & no hidden charges.
Scalable
Sky is the limit. Effortlessly navigate between plans that allow 10,000 calls per day upto 10 billion.
Works Everywhere
From New York to Tokyo, get world-wide coverage powered by data from OpenStreetMap, Open Addresses and other sources.
Flexible Licensing
Tailored for your business. Use without a map or any attribution and get custom rate limits, payment options & SLA on demand.
I'M READY, GET STARTED
1
Try us out
Geocode
Converts street addresses to coordinates
Reverse Geocode
Converts coordinates back to street addresses
Beautiful Street & Satellite Maps
Map tiles that work on Web, Android & iOS.
2
Excited?! Get a developer token!
You'll need an unique token to identify your requests. We'll send you an email with an activation link .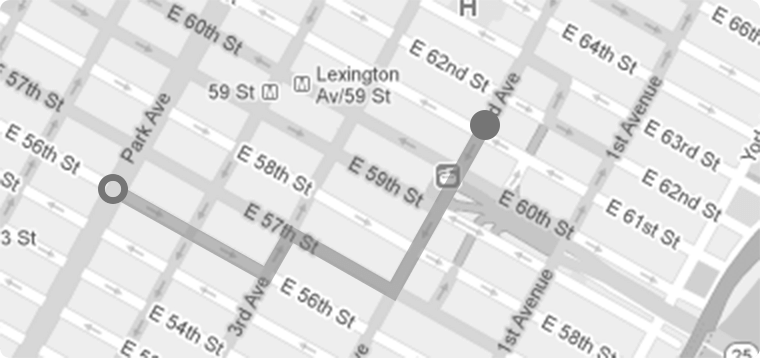 Trusted by 10000+ Developers
Frequently Asked Questions
What is LocationIQ?
LocationIQ provides enterprise grade location services to 1000s of developers & companies worldwide. Everything we do is in line with our principles of Affordability, Availability and Scalability.
How many requests can I make?
10,000 for free every day! Upgrade to a paid plan for more. We currently serve customers who make over a billion requests each day so let us know if you have a special requirement.
How fast is your API?
Our infrastructure is spread across 3 continents, and all servers run on blazing fast SSDs/NvME drives! Expect a response within 100ms. We also publish uptime information publicly.
What's next on roadmap?
Adding more data sources, map styles and new product offerings such as Routing & Points of Interest. If you have something else in mind, tell us!
What's your caching policy?
If you have a free account, you can cache results for upto 48 hours. For others, cache for as long as you're a customer! :-)
What is your licensing policy?
You may use our free plan in commercial projects if you spread the love by adding a link to us on your website or app in this format: "Search by LocationIQ.com"! Please also read our Terms of Use. Other than that, not much else. :-)
How do I contact you?
Email us at [email protected] or send us a message here and we'll get back to you within a day.
Who runs LocationIQ?
LocationIQ is run by the folks at Unwired Labs, a complete geolocation solution provider for IoT, M2M and other connected devices.
How do you give back to the community?
We work with OpenStreetMap as corporate partners - we're also on our way to open-sourcing a bunch of our code.
Email us at

[email protected]

with a sample file and any specific requirements. We'll get back to you within 24 hours!